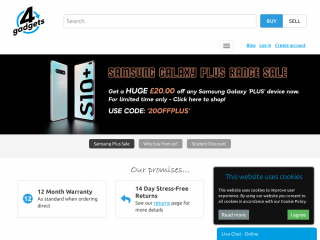 4Gadgets Coupon, Deals, Promo Codes 2020
Here at 4gadgets we pride ourselves on selling quality items at great prices. As an experienced seller in the mobile phone and tablet industry over the last 5 years we know what our customers want and we make sure we provide. Our strict quality assessments of each unit make sure that every item we sell is exactly as described. If we say a handset is in pristine condition, the handset will be in pristine condition. We are so confident that we offer the best quality gadgets that we even offer a 14 day money back guarantee and a whopping 12 month warranty! As we use FREE next day delivery couriers, we can guarantee all orders received before 3pm will be delivered the next working day.
September Specials - Up to £40 off of selected devices!
Get up to £40 off of selected devicesSimply click on one of the eligible devices below and add to your basket. The discounted value is automatically shown on the product page and applied!T&Cs apply. While stocks last. Full range of eligible models:£40 OFF Samsung Galaxy Note 10 Plus - N975FSamsung Galaxy Note 10 Plus 5G - N976BSamsung Galaxy Note 10 - N970F £30 OFF Samsung Galaxy S10 Plus - G975FSamsung Galaxy S10 - G973FSamsung Galaxy S20 Plus 5G - G986BSamsung Galaxy S20 5G - G981B £20 OFF Samsung Galaxy S9 Plus - G965FSamsung Galaxy Note 9 - N960FD (Dual Sim)Samsung Galaxy Note 9 - N960FApple iPhone XApple iPhone XRApple iPhone XS MaxApple iPhone 11 Pro MaxSamsung Galaxy Watch 42mm - R810Samsung Galaxy Watch 46mm - R800FSamsung Galaxy Tab S4 10.5 WiFi - T830Huawei P30 Pro £10 OFF Samsung Galaxy S6 - G920FSamsung Galaxy S7 - G930FSamsung Galaxy S8 - G950FSamsung Galaxy S9 - G960FSamsung Galaxy A3 - A320F (2017)Samsung Galaxy J3 (2017) - SM-J330FApple iPhone 6Apple iPhone 7Apple iPhone 8Apple iPhone XSSamsung Galaxy Watch Active - SM-R500. Discount Detail: September Specials - Up to £40 off of selected devices!
Expires: 2020-09-27