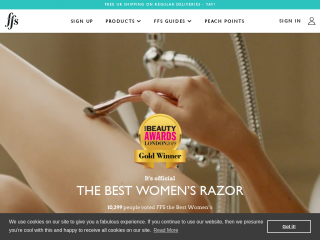 FFS Shaving Coupon, Deals, Promo Codes 2020
Friction Free Shaving is the first razor delivery service designed exclusively for women. We're on a mission to make it cleaner, easier and cheaper for you to shave your legs, underarms and any other areas. You sign up and we send you a chic handle, then fresh blades every month meaning you can stay smooth for longer, all for just a few pounds a month.
Try our trial box for just £7.50 including our rose gold metal handle, personalised engraving, two diamond-coated blades and a clamshell protector.
Expires: 2020-08-31