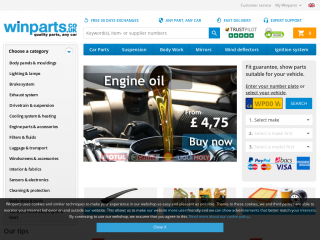 winparts Coupon, Deals, Promo Codes 2020
Winparts car parts is located in the north of the Netherlands. Winneweer, in the Groningen province to be precise. This is also where the name comes from: Win (Winneweer) and Parts (car parts). The ´van Essen´-brothers, Ari and Meinard, founded the company in 2005. There´s however a bit of history which precedes Winparts. Back in 1986 the van Essen brothers started D-parts in the city of Groningen. Here they started selling used BMW car parts. Their passion for car parts was caused by their own broken-down BMW E12. It soon became clear that it was difficult to find a replacement for their broken gearbox. Their only possibility was to buy a second-hand car. So a donor car was bought, the car dismantled and the gearbox was mounted in their own car. The other parts of the bought BMW were sold and D-Parts was born. In 1987 D-parts moved to Winneweer, expanding storage facilities enormously with a warehouse of more than 10,000m2.
Get a 5% discount now on all car parts at Winparts.co.uk. No exceptions.
ATE Plastilube Brake Grease 35ml
Get your ATE Plastilube Universal Lubricant 35ml tube for FREE on orders over £ 105 on all Brake discs, Brake pads, Brake shoe kits and Brake calipers. ATE Plastilube Universal Lubricant 35ml tube stuff is great..!! It can be used with DOT 3, DOT 4 and DOT 5.1 brake fluid, provides protection against corrosion of the afore mentioned brake components, is Long Lasting , reduces maintenance frequency, is waterproof and is compatible with all metals and most O-ring materials.